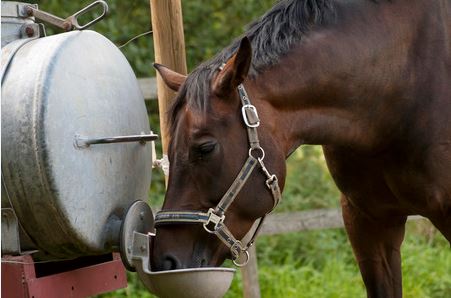 As temperatures soar during the summer months, one common question concerns how to best protect animals from the heat. Without the proper care, many animals may be at risk of serious heat-related illness or injuries. Here's what you need to know to keep your horse cool in the summer.
Shade
One obvious step in keeping your horse cool in the summer is making sure it has plenty of shade. If your horse is pastured and does not have access to natural shade, consider a run-in shed to provide an escape from the sun.
Water
Another obvious element of protecting a horse from summer heat is water. Be sure that horses have a reliable supply of cool, clear water at all times. Since horses may drink more than 20 gallons of water per day during summer, it is important to keep an eye on the water. It is also a good idea to be sure the water trough or bucket is clean in order to encourage the horse to drink. Drinking plenty of water is essential for staying cool and avoiding dehydration.
Ventilation
Horses that are kept in a barn during the day can still be at risk of heat-related problems if the barn is not adequately ventilated. Keeping end doors and windows open can help with air flow, but also consider using fans to move air along as necessary.
Baths
During periods of extreme heat, or if a horse is showing signs of heat stress, water baths can help to cool the horse. Sponging or spraying cool water on the horse, particularly over the larger blood vessels, can help prevent heat-related problems. Misting systems are also helpful for cooling horses during warm weather.
Fodder
Horses still need energy during the summer months, but heat and dry weather slow the growth of grass in pastures. Supplementing with good-quality hay or grain during these hot months when grazing opportunities decline helps to provide energy that horses need for their natural cooling processes.
Open Spear Ranch raises high-quality, American Quarter Horses in south-central Montana. Contact us today at 406- 537-2333 or browse our listing of horses for sale to learn more about our horses.